Mental health is an essential aspect of our overall wellbeing. However, various health conditions, life events, and stressors can take a toll on our mental health. Seeking treatment for oneself or a loved one's mental health is crucial to managing symptoms and improving the quality of life. While self-care techniques, support groups, and therapy are preferred ways to manage symptoms, medication is sometimes necessary. One such medication is olanzapine (Zyprexa), commonly used to treat bipolar disorder, schizophrenia, and chemotherapy-induced nausea and vomiting. However, olanzapine has several risks and side effects that patients and healthcare providers should be aware of.
Understanding Olanzapine
Olanzapine is an FDA-approved oral medication used to treat bipolar disorder and schizophrenia in people aged 13 and older. It is an atypical antipsychotic that comes in several forms, including a traditional tablet, fast-acting injection, dissolvable tablet, long-lasting injection, and combination pills that contain olanzapine and fluoxetine or samidorphan. Although the exact way olanzapine works to promote healthy thought and behavior changes is not proven, it is believed to balance dopamine and serotonin levels in the brain, which play a crucial role in bipolar disorder and schizophrenia.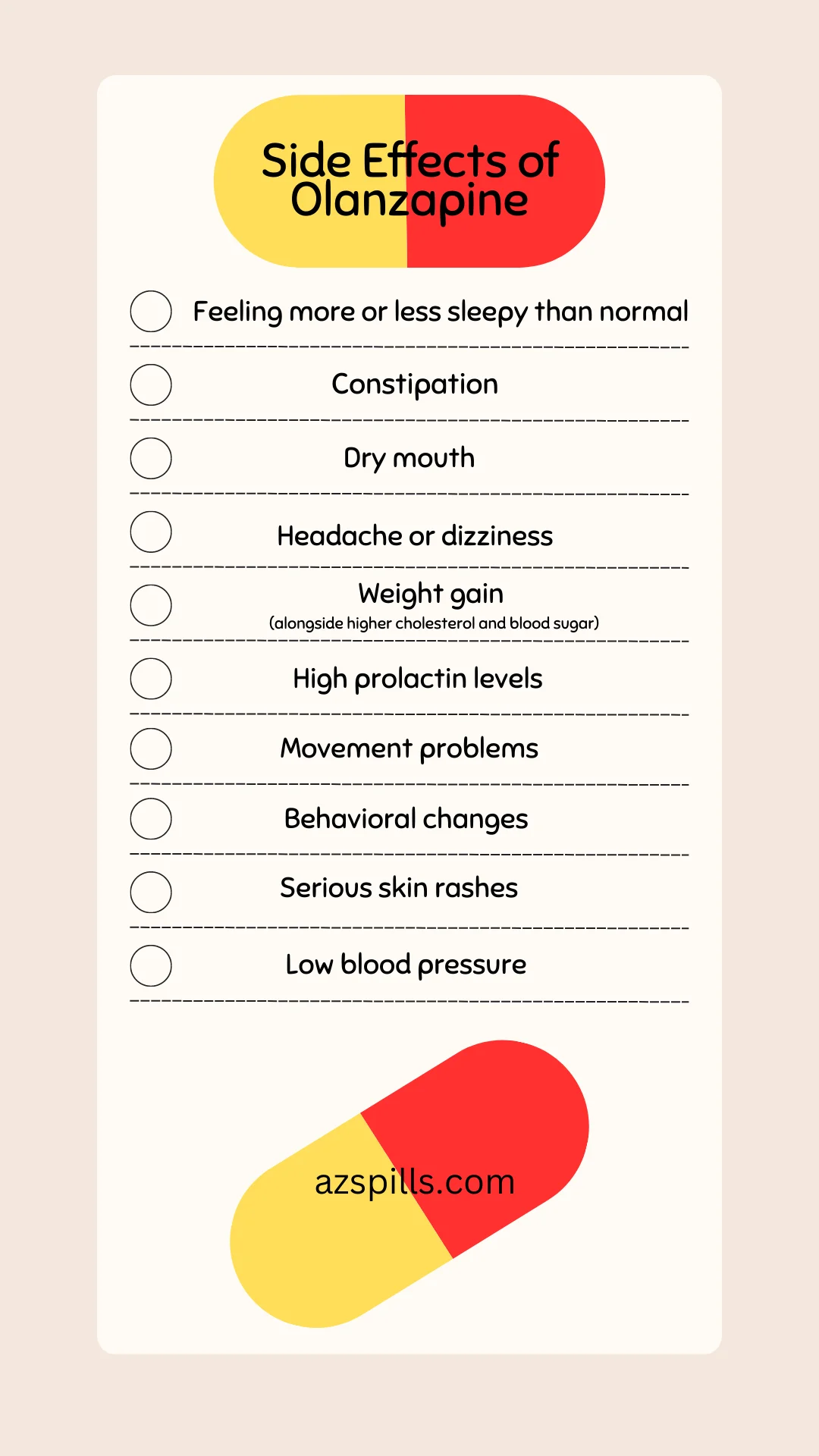 Potential Side Effects of Olanzapine
While many of the side effects of olanzapine are mild and/or manageable, some can be severe and life-threatening. Older adults with dementia-related psychosis should avoid taking olanzapine due to the risk of severe brain-related side effects and a higher risk of death. For those new to olanzapine, it is essential to know what to expect. Here are nine key side effects to keep in mind while taking oral olanzapine:
Feeling more or less sleepy than normal
Drowsiness or sleepiness is one of olanzapine's most common side effects, and it can also affect mental alertness or judgment. Insomnia is another common side effect. Patients should ask their healthcare provider about taking olanzapine around bedtime or soon after waking up, depending on their specific response to the medication. Drowsiness also appears to be dose-related, so a lower dose may be more appropriate for some patients.
Constipation
Olanzapine has anticholinergic properties that can cause a "drying" effect throughout the body, leading to constipation. Patients can try dietary changes such as drinking more water or eating fiber-rich foods, and over-the-counter medications for constipation can also help.
Dry mouth
Dry mouth is a common side effect of olanzapine and can be treated with drinking more water, sucking on ice chips, rinsing with cold water, or chewing sugarless gum. Healthcare providers may also suggest saliva substitutes or lowering the olanzapine dose.
Headache or dizziness
Headache and dizziness are common side effects that usually improve as the body gets used to the medication. Patients should contact their healthcare provider if they do not improve or get worse.
Weight gain (alongside higher cholesterol and blood sugar)
Olanzapine can cause metabolic changes, leading to higher cholesterol and blood sugar levels and a bigger appetite, leading to weight gain. Healthcare providers will monitor patients' blood sugar, cholesterol levels, and body weight and recommend lifestyle changes such as diet and exercise.
High prolactin levels
Olanzapine can raise prolactin levels, leading to lower sex drive, menstrual irregularities, mood changes, male breast development, nipple discharge, and fertility problems. Patients should inform their healthcare provider of any symptoms to manage them better.
Movement problems
Olanzapine can cause shakiness or inability to sit still, but more severe risks such as tardive dyskinesia and neuroleptic malignant syndrome are possible. Patients should contact their healthcare provider if they notice any unusual body movements.
Behavioral changes
Olanzapine can promote positive behavioral changes, but it can also cause new or worsening depression and thoughts of suicide. Patients should contact their healthcare provider right away if they experience any of these symptoms or call 988 for immediate support.
Serious skin rashes
Although rare, olanzapine can cause serious skin rashes, leading to fever and swelling throughout the body. Patients should seek medical help immediately if they develop any fever or rash symptoms.
Low blood pressure
Olanzapine may cause low blood pressure, which can lead to dizziness, lightheadedness, or fainting. Patients should inform their healthcare provider if they experience any of these symptoms or have a history of low blood pressure. Adjustments to medication or lifestyle changes may be necessary to manage this side effect.
When to Contact a Healthcare Provider
Patients should contact their healthcare provider for any bothersome or severe side effects, such as movement problems, changes in mood or behavior, or significant weight gain. Patients should also seek medical attention immediately if their symptoms are accompanied by confusion, high fever, facial swelling, or anything that feels severe.
Conclusion
Olanzapine is a useful medication for treating bipolar disorder, schizophrenia, and chemotherapy-induced nausea and vomiting. However, it has several risks and side effects that patients and healthcare providers should be aware of. Patients should communicate any side effects to their healthcare provider and follow their recommendations for